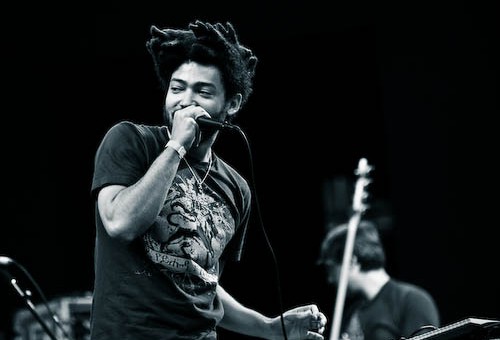 Members
Taylor McFerrin,
Vocals, Piano, Organ
Jason Fraticelli,
Bass
Nigel Sifantus,
Drums, MPC
The Cell Theory is an urban/jazz trio that pushes the musical boundaries of 21'st century electronic soundscape and organic jazz improvisation.
Its members: Taylor McFerrin (Keyboards, samples, beatbox/vocals) Jason Fraticelli (electric and acoustic Bass) and Nigel Sifantus (drums and percussion) met and began performing together in different groups starting in mid '01. They first gained notoriety performing with the eclectic jazz/drum 'n' bass group Grandfather Ridiculous comprised of all members who had attended the renowned New School University Jazz and Contemporary music school in the late '90s. GR gained a lot of press attention and fan buzz while touring the Eastern US opening for groups such as The New Deal, DJ Logic, Lake Trout and the Jazz Mandolin Project.
In late '03 GR disbanded and the members that became the Cell Theory embarked on their first project producing the 2004 album L Maestro Presents "Dimensions of Common Experience". This unique album brought together the hip-hop vocals of MC's Jubei and K.B. with the sometimes atmospheric, other times driving beat of the Cell Theory's organic trio. Throughout the album no sequencers or loops are used however the songs are filled with samples, synthesizers, and digital keyboards and drums as well as upright bass and acoustic drums. The collaboration which also includes the fender Rhodes and guitar work of David Zucker resulted in a one of a kind listening experience combining the sounds of the present, future and past in a manor that is both familiar and groundbreaking. The rest of '04 found the Cell Theory touring the US and Europe in support of "Dimensions" until December when the trio began a new project of recording themselves in a series of Manhattan and Brooklyn studios finally as a trio.
The band began bi-weekly residencies in both Philadelphia at the Aqua Lounge and in Brooklyn at the Rose in '05. Further developing their improvisational based composition techniques, they blended complex, often through composed song forms with tunes that began on these gigs as improvisations, then developed into concrete, yet flexible songs. From '05 to '09 the Cell Theory continued these secret "word of mouth" residency gigs along with tours throughout the east coast and performances at the Blue Note jazz club in NYC, the summer concert series at Battery Park in downtown Manhattan, and at the Prospect park band shell in Brooklyn opening for act such as Medeski Martin and Wood, DJ Logic and Vernon Reid's "Yohimbe Brothers", and Mark Ribot among others.
In 2008, the Cell Theory released their first official record "Memory is Energy".